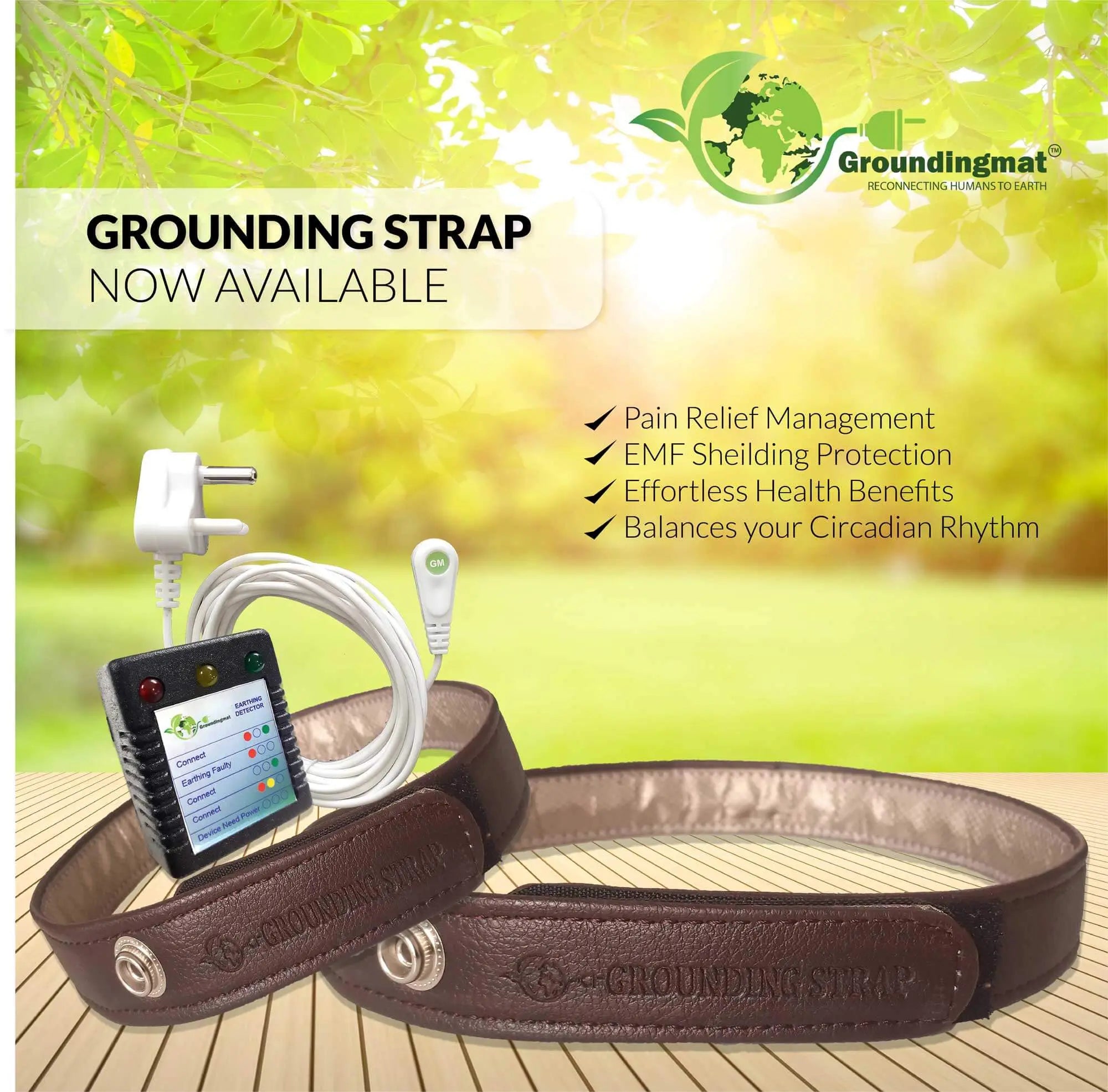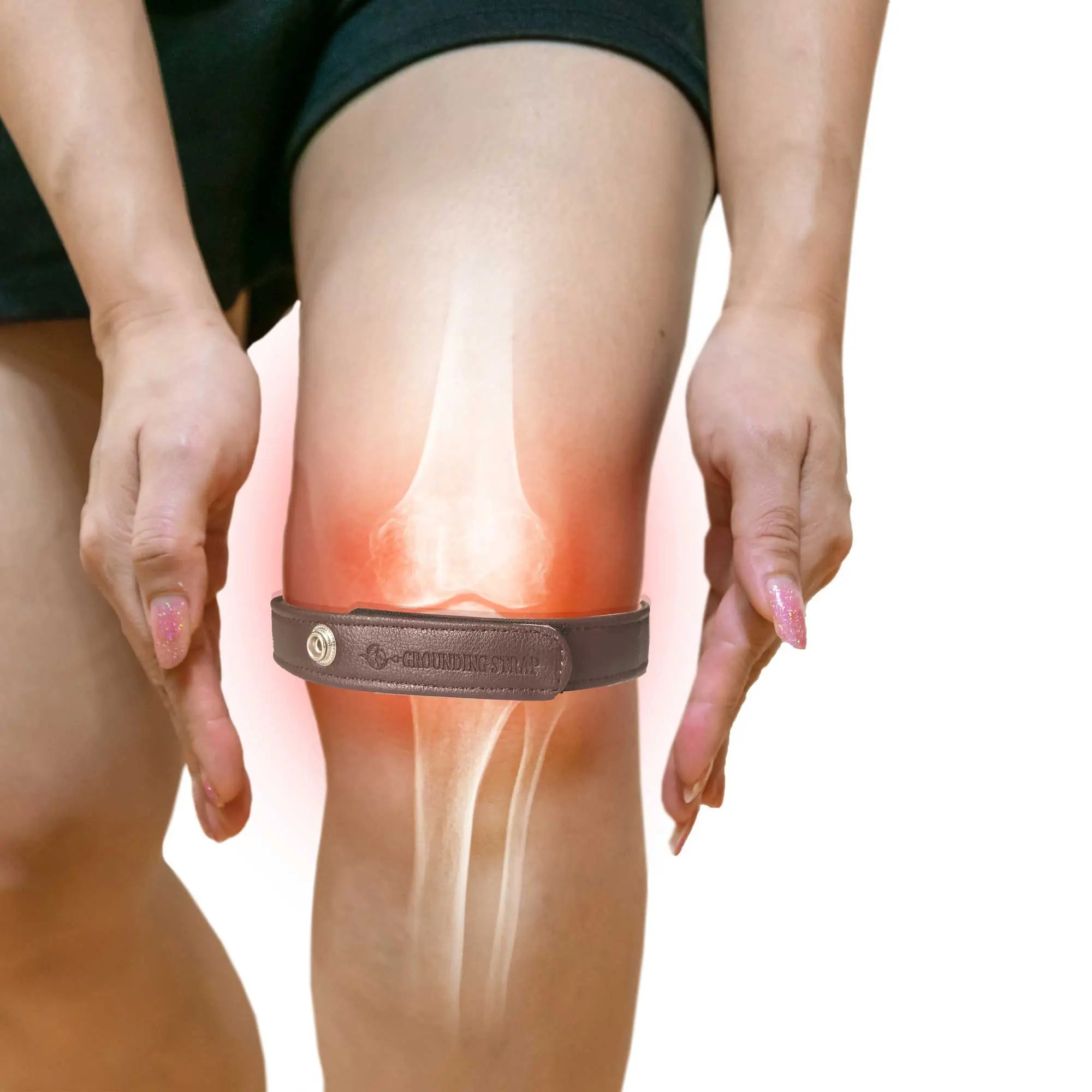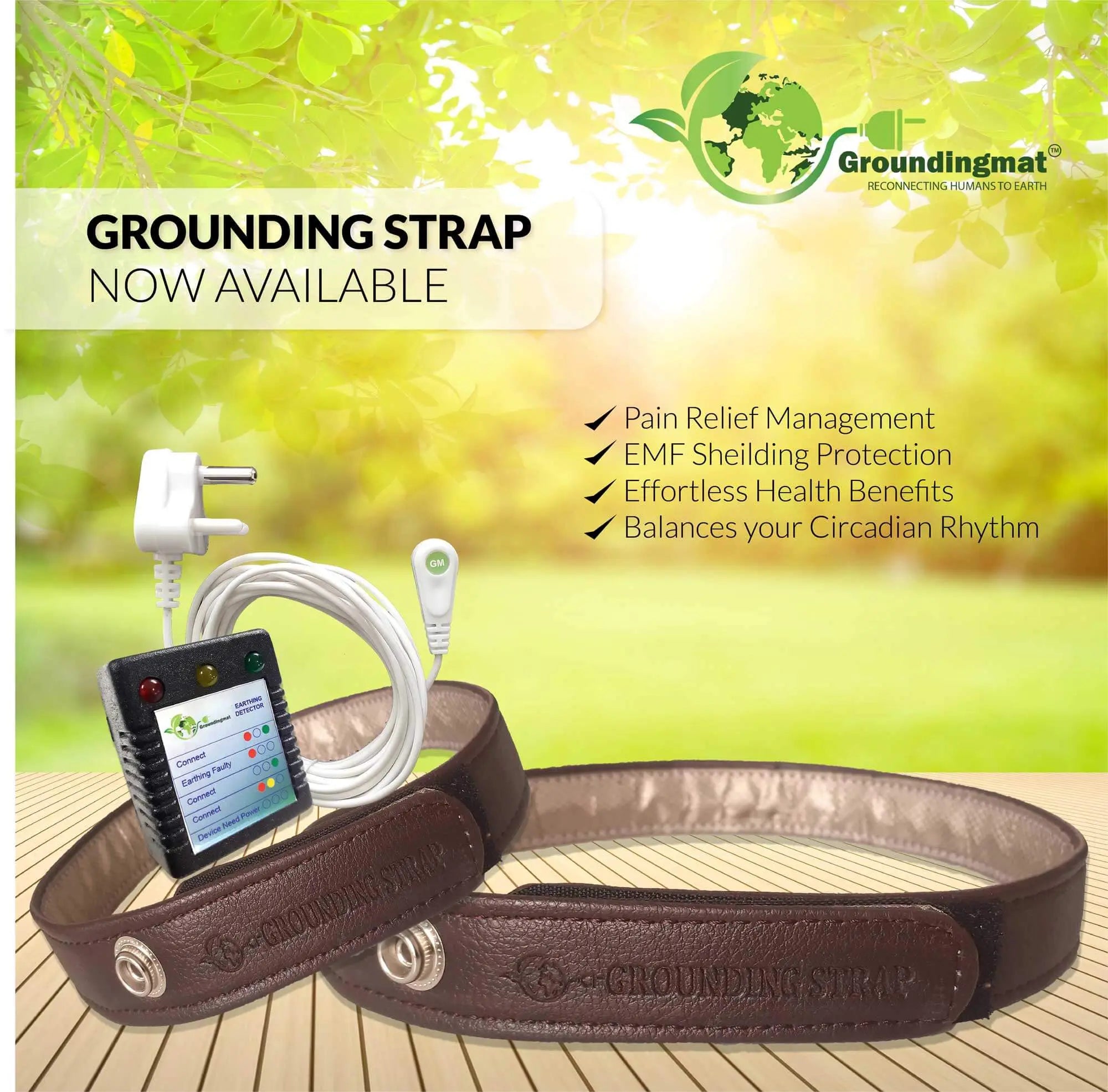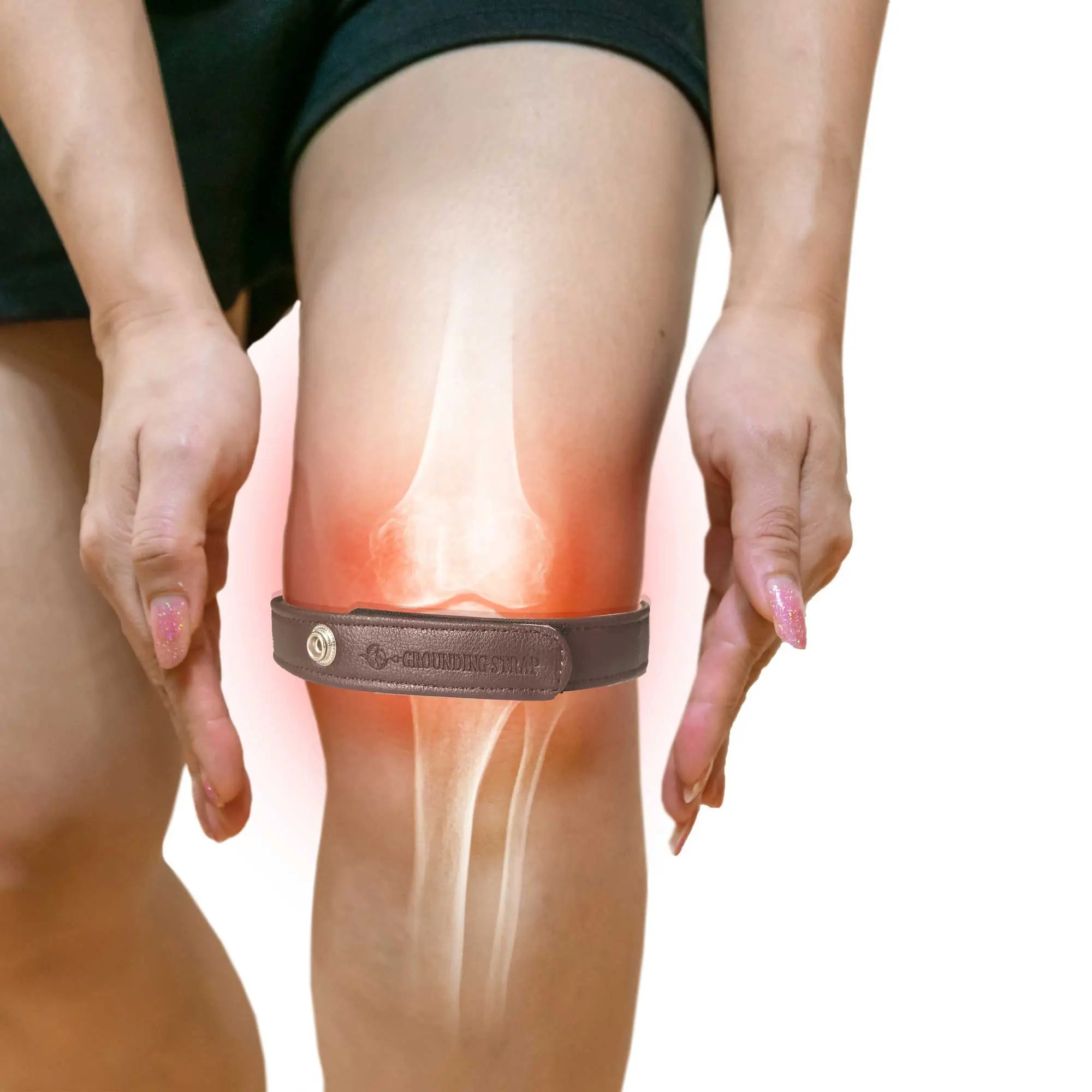 GROUNDING strap
DESIGNED FOR TARGETED PAIN MANAGEMENT FOR JOINTS AND MUSCLE PAINS
Size: Grounding strap: 1 x 12 Inch, 1 x 24 Inch
Cord 4 Meter Long & Earth Tester
Our Grounding Straps are designed for localized direct healing so you can target specific areas. Grounding Straps can be used on most parts of the body in-particular the Wrists, Ankles, Shoulders and Head. The Straps work by directly grounding the area of the body, which provides a localized anti-inflammatory effect. You will also benefit from generalized Grounding over the whole body. The Grounding Straps are made of highly conductive material with an adjustable Velcro so are flexible with a secure fit.
SECURED SSL CHECKOUT GUARANTEED
Do you know Grounding can help you reduce


Swelling in your legs, Joint Pain, Arthritis Pains and muscle soreness in the body.
20+ PEER REVIEWED CLINIACAL STUDIES ON GROUNDING
The Natural Way for Swollen leg Treatment is Using Grounding Mat Daily while Sleeping
Grounding Mat can significantly reduce swelling, Joint Pain, Arthritis Pains and Muscle soreness in the body.

This happens when the Human body comes in contact with the earth, A small subtle energy is present in the earth is also called electrons or natural anti-oxidants, this energy is absorbed by our human body which rebalances our body system, this therapeutic technique is known as grounding or earthing.

This earth energy enters our body and reduces Free radicals in the body which leads to a reduction in inflammation and improves blood circulation & Blood flow by increasing zeta potential in our blood cells.

Once Inflammation is reduced, Blood Circulation & Blood Flow is improved the oxygenation level automatically increases, Which will help our organs to work smoothly.

The moment we get in contact with earth's energy, These Earths electrons will start working and healing of your body starts, which reduce

1. Reduce Inflammation in the Body
2. Reduce Swelling
3. Reduce arthritis Pains
4. Reduce joint & muscle pain
5. Improves blood circulation & Blood flow
6. Make you go Deep Sleep
7. You will feel fresh & energetic when you wake up in the morning.
8. Enhance your mood

In today's world we have disassociated from the earth by introducing, shoes and slippers into our daily life, even at our home we have vitrified tiles, So we are no more in contact with Mother Earth.

In our busy schedule, its hard to take time out and walk barefoot, the easiest and most comfortable proven method is a grounding mat so that you will not miss grounding.

A Grounding mat brings the earth's energy indoors using our existing house earthing system. which allows a person to bring the experience into the home, office or even in bed
WE RECOMMEND USING THE GROUNDING MAT FOR 8 HRS AT NIGHT WHILE SLEEPING, KEEPING THE GROUNDING MAT UNDER YOUR FEET TOUCHING YOUR BAREFOOT TO THE GROUNDING MAT, FOR BETTER RESULTS
A simple test was preformed using multimeter when you test the body voltage before grounding the voltage is Approx. 13v when grounded voltage drastically drops to "0 volt".

Conclusion of this test is when you are grounded you are draining all EMF Fields from your body to ground and making umbrella effect around you body
AS PER THE STUDY CONDUCTED, The Thermographic Images below show a dramatic reduction in inflammation after only 30 Min
HOW BLOOD CELLS REACT BEFORE AND AFTER GROUNDING
Blood Quality Experiment by Dr. Cimone Kamei of Jujube Hawaii Clinic

Before Grounding: Blood Cells are Sticking to each other and making blood thick and hard to flow

After Grounding : The Cells repelled each other and viscosity of blood decreased flow of blood in body increased and now cells can carry oxygen to your vital organs easily
BENEFITS OF GROUNDING
Many Disease can be Prevented and eliminated once we start reconnecting our body with ground like old days
There are multiple benefits of grounding few are listed below

Reduce stress, Depression & Anxiety

Improves Immune System

Reduce Muscle Tension

Protects you from Harmfull EMF, 5G

Speeds wound healing

Enhance your mood

Clams upset & bloating stomach

Regulates harmonal rhythms

Increase Melatonin & Reduce cortisol level at night

Increase oxygen in blood, enhancing cell function asthama relief
Reduce Hypertension

Reduce Muscle & Joint Pains

Improves Sleep Conditions

Improves Blood Circulation

Reduce Blood Viscosity

Reduce Hypertension

Increase day time energy

Influences EGG & EMG

Reduces PMS & Hot flashes

Balance bone calcium metabolism, reduce osteporoisis
STUDY SHOWS REGULAR GROUNDING CAN REDUCE PAIN BY DECREASING INFLAMMATION
A 2010 study published in the Journal of Alternative and Complementary Medicine monitored the effects of earthing after doing an excessive exercise that created inflammation, pain and delayed onset muscle soreness (DOMS). In the study, subjects were assigned to two groups. One group slept on earthing products and also did one-hour of earthing during the day too. The other were sham-earthed. All subjects performed vigorous exercise and were tested for various blood markers indicating inflammation. The subjects also rated their pain levels subjectively. The study found that the subjects in the earthed group had a faster recovery time than those who were not earthed following exercise. In their conclusions, the researchers state: "Grounding appears to be the first intervention with the potential to reduce the time of recovery and improve muscle function from DOMS."
20+ PEER REVIEWED RESERCH STUDIES CONDUCTED ON GROUNDING
Research has shown that grounding have significant impact on human body, Read all the Research Papers conducted on grounding
HOW TO USE GROUNDING MAT
Was Suffering from Knee Pain and Sleep Problems.
Was Suffering from Knee Pain and Sleep Problems.